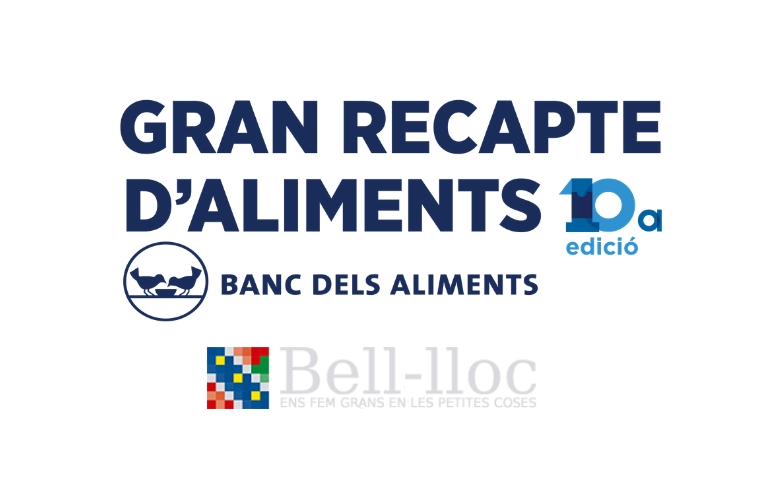 Campaña de recogida de alimentos 2018
23 November, 2018
This year, Bell-lloc's Parents Association will take part in the Food Campaign organised by the Banc dels Aliments on 30th November and 1st December, coordinating the food collection at the Aldi supermarket, situated in Crtra. de Santa Coloma, 50, Girona. If wish to participate, register here.
[html]
Com ja deveu saber, un dels objectius de l'AMPA de Bell-lloc és organitzar activitats solidàries. En aquesta ocasió ens posem en contacte amb vosaltres per comunciar-vos que, enguany, l'AMPA de Bell-lloc participarà en el Gran Recapte que organitza el Banc dels Aliments els dies 30 de novembre i 1 de desembre, coordinant la recollida d'aliments al supermercat Aldi, situat a la carretera de Santa Coloma, 50, 17005 Girona (al costat del Wala).
Hem pensat, de la mà de Bell-lloc, que podríem comptar amb la solidaritat de moltes famílies i alumnes de Bell-lloc. Sens dubte, es tracta d'una bona ocasió per fer que els nostres fills s'adonin que és molt gratificant donar el nostre temps als altres i, alhora, que s'adonin que moltes persones de ben a prop nostre no tenen un plat a taula cada dia.
En aquest enllaç, trobareu un formulari en el qual us hi podeu inscriure. Veureu que els torns són d'una hora de durada i que podeu triar entre diferents mòduls horaris. Un cop feta la inscripció -amb el termini més breu possible- rebreu un correu electrònic en el qual se us adjudicarà una hora dins el mòdul que hàgiu triat i les instruccions a seguir. La data límit per inscriure-us és el dimecres 28 de novembre.
Important: els menors de 16 anys no es poden inscriure individualment i cal que vagin acompanyats d'un adult. Tanmateix, pensem que és una molt bona ocasió perquè visquin aquesta experiència i us convidem a inscriure-us amb ells.

[/html]
[button type="default" color_type="0″ color="btn-danger" text="Formulari d'inscripció" link="https://docs.google.com/forms/d/e/1FAIpQLSdyFSqtgt9l8Qzb_sRhbKr3-U9PIEZGNJNs2p0lEy0si4AKfw/viewform" new_tab="1″ different_values="0″]
[/button]