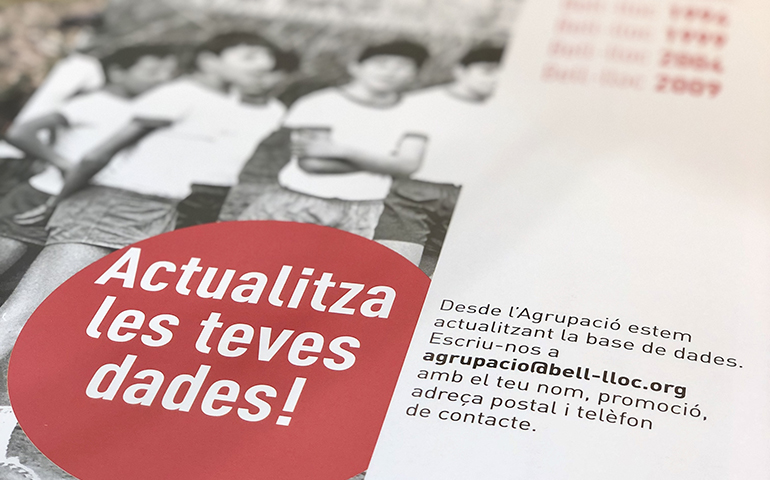 Update your Profile
21 December, 2018
The Alumni Association are updating their database. Fill in this form and keep pace with the daily Alumni activities and encounters.
[html format="full_html" different_values="0″]
Si ens envies les teves dades i et fas membre de l'Agrupació podràs rebre tota la informació de l'escola, activitats i trobades d'antics alumnes. Això ho podràs fer a través del formulari d'inscripció adjunt.
Per exemple, enguany hi haurà la trobada dels antics alumnes que varen acabar al 1994 i al 1999, és a dir, fa 25 i 20 anys, respectivament.
Si ja n'ets membre i només vols actualitzar les teves dades o ets antic alumne i vols resoldre qualsevol dubte o enviar-nos qualsevol suggeriment, escriu-nos un correu electrònic a l'adreça agrupacio@bell-lloc.org
I no t'oblidis de visitar el Blog de l'Agrupació d'Antics Alumnes!
[/html]
[button type="default" color_type="0″ color="btn-danger" text="Blog" link="https://sites.google.com/bell-lloc.org/el-blog-de-lagrupacio/p%C3%A0gina-principal?authuser=1″ new_tab="1″ style_margin_right="10″ different_values="0″]
[/button]
[button type="default" color_type="0″ color="btn-danger" text="Formulari d'inscripció" link="https://sites.google.com/bell-lloc.org/el-blog-de-lagrupacio/inscriu-te?authuser=1″ new_tab="1″ style_margin_right="10″ different_values="0″]
[/button]