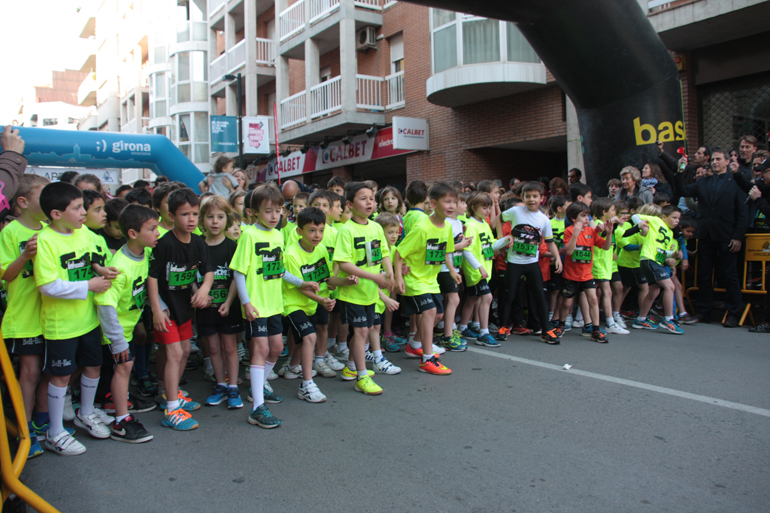 39th edition of Carrer Nou race in Girona
17 October, 2017
The forthcoming 39th edition of Carrer Nou race will take place on Sunday 22 October. We are looking forward to seeing you there! For further information, please check the documents attached.
[html format="full_html" different_values="0″]
On Sunday 22 October, join Bell-Lloc and run with us in the 39th edition of Carrer Nou race!
First race: runners born from 2010 onwards (up to 7 years old), i.e., 1st and 2nd of Primary: departure at 9AM and a 500-meter itinerary.
Second race: runners born between 2007 and 2009 (8-10 y.o.), which corresponds to 3rd, 4th and 5th of Primary; departure at 9:10 AM and a 1200-meter itinerary.
Our meeting point both for students and families is Constitution Square, in front of El Mercadal church) from 8.15AM. Equipment (shirt, athlete's number) will be delivered on the spot if necessary. Then we will go with you to the race's starting point.
Once the race has finished, you can pick up your little runners on Josep Pla Square, where the itinerary ends. Teachers will be there at your disposal to help!
Required equipment:
Bell-lloc's yellow T-shirt (fluorescent).

Bell-lloc's dark blue trousers

2 needles to fix the runner's number.
[/html]
[button type="default" color_type="0″ color="btn-danger" text="Race document" link="https://www.bell-lloc.org/sites/default/files/39enacursacarrernoubllc.pdf" new_tab="1″ different_values="0″]
[/button]