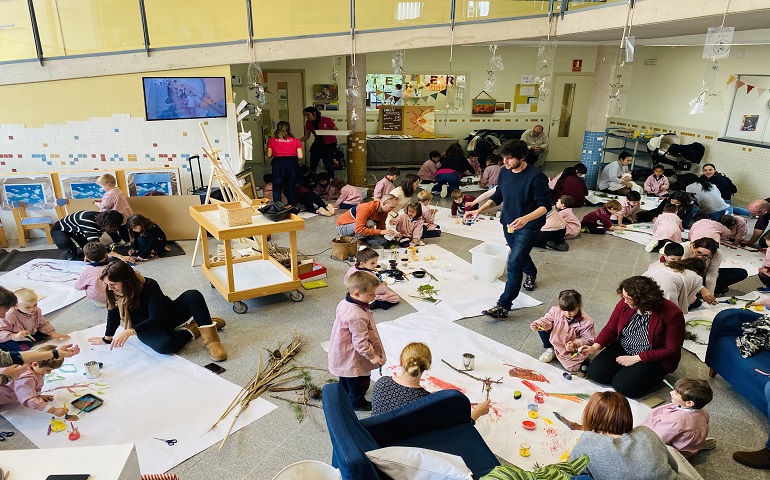 Joan Mateu at Bell-lloc Infantil
28 February, 2020
At the beginning of the course, the "Somos Gerundenses" project began to boost KM0 learning, bringing artists and professionals from Girona to the Bell-lloc Infantil school as a channel of communication with art and visual and plastic expression. Girona artists and professionals who work in different artistic and creative techniques have been invited: sculpture, architecture, painting, ceramics …
This week Joan Mateu, a multidisciplinary artist from Salt with international projection, specialized in figurative painting and urban spaces, has visited us.
The session took place during the first inspiring part in one of the "forests" of the school, and later, in the Hall of the school, while the students created their own works with the technique and color according to the indications and explanations of Joan Mateu .
Joan Mateu's activity began in the forest, making the scientific walk that works on mathematical, verbal and discovery concepts of the self and the environment in a global way. We collected natural elements according to what we liked and attracted more. We even manufacture makeshift brushes with pine leaves and logs.
Joan Mateu explained how he was inspired to create and taught us how to make natural pigment paint with innovative techniques that served to create our own work.
A team of students has acted as curators and we have made an exhibition so that anyone who wants it can come to enjoy our artistic creations. We have presented it with a "Vernisage" and at the end of the course we plan to make a charity auction for the fight against childhood cancer.
All this has been possible thanks to the routines of thought and maps of understanding that have helped us to be proactive and enterprising. We have learned that it is not only important to know how to paint but also how to spread it: what to do once you have painted the pictures.