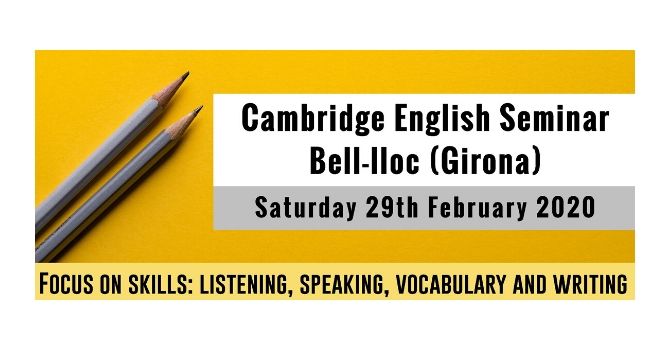 Cambridge English Seminar at Bell-lloc
1 March, 2020
The Cambridge English Seminar Bell-lloc was held on February 29th with more than sixty English teachers from all over the province of Girona attending. The day consisted in updating the methodological foundations in English language teaching, explained through 4 sessions, on the main skills taught in this discipline: speaking, writing, listening and vocabulary.
The 4 sessions were done simultaneously, two to two. In the first room, we explained how to prepare students for the A2 and B1 speaking part, followed by how to develop the interaction and participation in the speaking exams through the levels. In the second room, it has begun with an in-depth look at vocabulary knowledge and use, followed by an exploration of writing skills in schools: homework, assessment and preparation.
The Cambridge leaders for the sessions were Jane Delaney and Jim Fuller. On the one hand, Jane Delaney is a primary school teacher and she lives in Tarragona. She has extensive experience as an Examiner, Examiner Trainer and Cambridge Teacher Trainer. He has given numerous workshops and sessions for Teaching Younger Learners and has authored several materials. She is particularly interested in CLIL (Content and Language Integrated Learning) and getting children and adolescents to speak and write in English.
On the other hand, Jim Fuller is a professor, trainer at Cambridge University Press and Cambridge Assessment and an avid blogger. He has taught at almost every level of learning and in various contexts and therefore considers himself a complete teacher. She is interested in professional development, teacher training and writing teaching materials.
Finally, English teachers at the school were able to exchange experiences with teachers from academies, institutes and schools in the Girona region.
The conference timing was as follows:
10.00h: Preparation of students for listening.
10.00am: Knowledge and awareness of the language: vocabulary.
11.00am: Pause and editorial stand.
11.30am: Development of skills around the Cambridge English Speaking tests.
11.30am: B2 First for Schools: Writing.