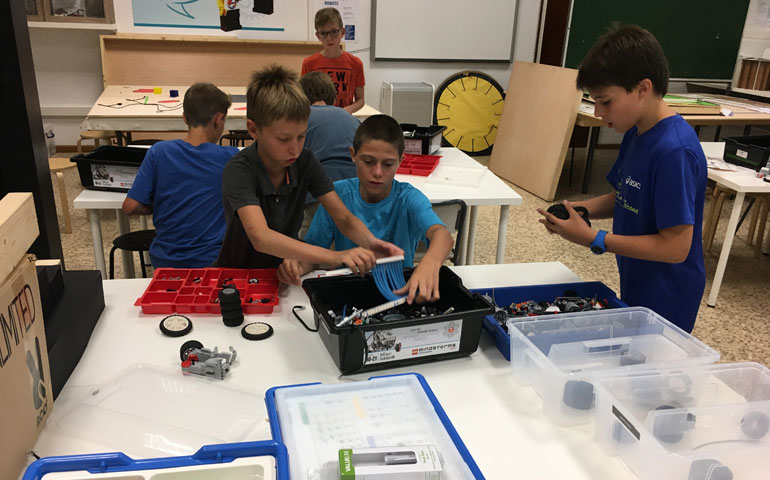 Tecnocampus
6 July, 2017
Great success of TecnoCampus with record of participation. This year we have done three centers of interest: "Trip to the Center of the Earth" for the students of 4th of primary school, "Save the Earth" for those of 5th and for those of 6th and ESO, "2030: Objective Mars." Access to the Tecnocampus's blog
Once again the TecnoCampus started its third edition, with great success in early July, doubling the participants with respect to the previous year. This year we have prepared three very different levels and we have used to create three centers of interest from where we work different aspects of technology and science. For the smaller ones, those of 4th of primary school, we have prepared the center of interest "Trip to the Center of the Earth"; For those of the second level, those of 5th of primary school "Save the Earth" and for the greatest, the 6th and 1st and 2nd of ESO "2030: Mars mission."
In all the centers of interest, we work on the technology from a practical point of view, promoting game and cooperative work without leaving the aspects of technology that are more fundamental for the future of our children.
We work on renewable energies, recycling, we work with materials studying the different properties, robots and programming, drones, electronics, 3D design, 3D printing, augmented reality …
We also encourage research by visiting organizations that work with technology such as: robotics in the technology park of the UdG, working with mud at the Terrissa Museum in Quart, scientific workshops at Can Moragues or physics at the wind tunnel.
The TechnoCampus lasts for two weeks, where the first one works on aspects of technology from different centers of interest and with different levels and the second week we work on the technology from the point of view of Technology Tastes at various levels according to the group and the age of each student.
The main objective is to promote a responsible use of technology, learning to use it to improve our well-being and, at the same time, it helps us to work well cooperatively.
You can check the TecnoCampus's blog where you can find all the daily programming as well as the photographs of each workshop.