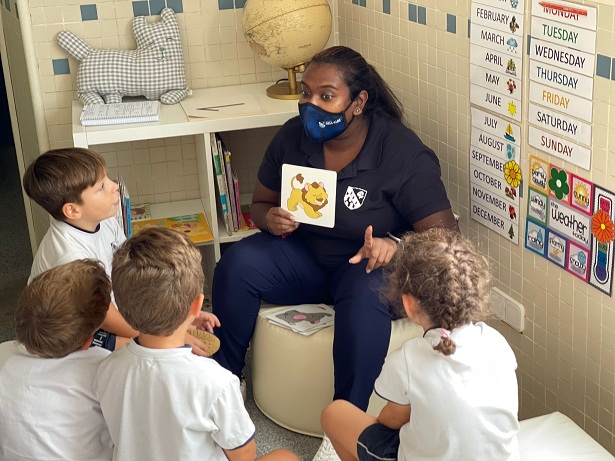 Twelve hours in English in Bell-lloc Infantil
23 September, 2021
Between the ages of two and six is an ideal time to introduce a foreign language.
Without forgetting our vehicular language, Catalan, we have increased the quantity and quality of English classes in the early childhood education stage.
The number of hours for a child who has the full Bell-lloc Plan is twelve per week, and English conversations during lunchtime in the dining room and during playground time must be taken into account too.
Let us explain!
We have good news: the teacher who helps in p3 all day long always speaks in English.
The five teaching hours in English, from 9:00 to 12:00 and from 15:00 to 17:00., allow us to work on the atelier, doing handicrafts and psychomotor skills in a co-teaching way. The specific English class with the whole group is taught by the English specialist teachers.
The project "La nostra Terra " is a transversal theme in all languages (Catalan, Spanish and English), so in these classes we take the opportunity to deepen our knowledge, enrich our vocabulary as well as to continue experimenting and solving challenges and concerns.
The five complementary midday hours: from 12:00 to 13:00 in P5, from 13:00 to 14:00 in P4 and from 14:00 to 15:00 in P3, are also taught in English in the subjects of robotics and manipulative mathematics.
Children who also have the Bell-lloc Alive plan in English have the opportunity to do Roleplay: a symbolic game with small groups in the school hall. There are different learning corners based on real life: the kitchen corner, a restaurant, a hospital, a school, a hairdressing salon, a mechanic's workshop, etc.
English Alive also includes half an hour a week of conversation in English in groups of three or four students, with the speaker in the Speaking Corner.
Storytelling is the space where we can share stories, tales, adventures… and it is also part of our English Alive activities.
To find out more about these activities, you can follow the stories and posts that we share on Instagram  @bellllocinfantil